Your roof is one of the most important parts of your home, and when it comes to choosing the right roofing company, you want to ensure you're making the best decision. With so many Roofing Companies in Albuquerque to choose from, how do you know you're making the right choice? This blog will provide valuable tips and tricks to help you find the perfect Roofing Company for your needs. From researching and comparing different companies to evaluating their experience, expertise, and customer service, we'll guide you through the process of selecting a reliable and professional Roofing Company that will cater to your specific requirements and ensure your roofing project is completed to the highest standards. 
So, let's dive in and explore the essential factors to consider when choosing a Roofing Company in Albuquerque.
1. Research Roofing Companies Albuquerque
The first step in choosing the right roofing company is to research options. Look for various companies with a solid reputation, positive customer reviews, and a proven track record of success. You can use online directories, social media, and review sites to gather information about local companies. By researching thoroughly, you can narrow your choices and ensure you're selecting a reliable and reputable Roofing Company. Additionally, watch for any awards or recognitions the company may have received, indicating their commitment to quality and customer satisfaction.
2. Check for Licensing and Insurance
When considering a Roofing Service Provider, ensure they are licensed and insured. This is crucial because it protects you and your property in case of accidents or damage during the roofing project. Roofing Repair New Mexico requires the company to have appropriate licensing and insurance to operate legally. Ask for proof of these documents, and verify their authenticity by contacting the issuing agencies if necessary. Furthermore, ensure the company complies with local building codes and regulations, as this will give you peace of mind that your project will be completed to the highest safety standards.
3. Experience and Expertise Matter
The experience and expertise of Companies are essential factors to consider. Consider opting for a company with many years of experience in the industry that will have the knowledge and skills necessary to handle various roofing projects, from simple repairs to complex installations. Additionally, a company with expertise in different roofing materials, such as asphalt shingles, metal, or tile, will be better equipped to provide you with the best solution for your home. Moreover, look for a company that regularly invests in training and certifications for its staff, ensuring they stay up-to-date on the latest industry techniques and best practices.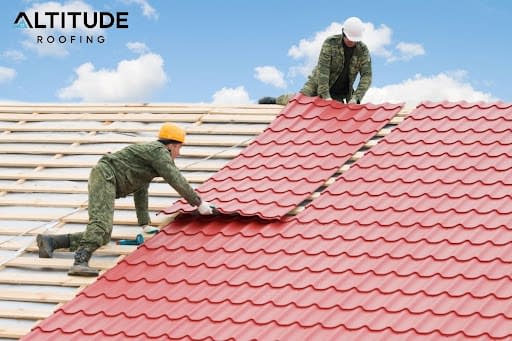 4. Ask for References
Before hiring a Roofing Company, ask for references from previous customers. This will give you an idea of their work quality, professionalism, and customer service. Contact the references and ask about their experience with the company, how well the project was completed, and if they would recommend the company to others. This information will help you decide when to choose the right Roofing Service Providers in Albuquerque. Also, consider visiting completed projects in person if possible, as this will give you a firsthand look at the quality of their workmanship and materials.
5. Obtain Multiple Quotes
Obtain multiple quotes from different Roofing Experts to ensure you get the best value for your money. Compare the prices, materials, and scope of work for each quote. Remember that the cheapest option may not always be the best, as it could mean lower-quality materials or workmanship. Look for a balance between cost and quality to ensure you get the most out of your investment. Additionally, be wary of quotes significantly lower than the rest, as this may signify a company cutting corners or using subpar materials.
6. Pay Attention to Communication
Communication is key when working with a Roofing Company. Make sure the company you choose is responsive to your inquiries, provide clear and detailed information about the project, and listens to your concerns. A company that values communication will likely provide a smooth, hassle-free roofing experience. Additionally, ensure that they provide regular updates on the project's progress and are open to addressing any concerns you may have throughout the process.
7. Warranties and Guarantees
When choosing a Roofing Company, inquire about the warranties and guarantees they offer on their work and materials. A reputable company will stand behind their work and offer warranties to protect your investment. Ensure you understand these warranties' terms and conditions and ensure they are provided in writing. It's also essential to ask about any maintenance or repair services they provide after the project's completion, as this can help keep your roof in optimal condition for years to come.
Choosing a Local Company is advantageous for several reasons. Local companies are more familiar with Albuquerque's climate and weather conditions, which means they can better recommend the right roofing materials and techniques for your home. Additionally, local companies are more likely to have established relationships with suppliers, which can result in lower prices and faster service. Finally, choosing a local company supports your community's economy. It ensures that you'll have easy access to the company if you need any follow-up services or repairs.
9. Review the Contract Carefully
Before signing a contract with a Roofing Company, make sure to review it carefully. The contract should outline the scope of work, materials to be used, estimated completion date, payment schedule, and any warranties or guarantees. Ask for clarification before signing if there are any discrepancies or unclear terms. A well-drafted contract will help protect you and the company in case of any disputes or issues during the project. Additionally, never feel pressured to sign a contract immediately; take your time to review it and seek legal advice if needed.
10. Trust Your Instincts
Lastly, trust your instincts when choosing a Company. It probably is if something feels off or too good to be true. Evaluate all the information gathered during your research and listen to your gut feeling. Considering all the factors mentioned above, you can make an informed decision and find the perfect Roofing Experts for your project in Albuquerque. Remember that a good working relationship with your chosen company is essential for a successful project. Make sure you feel comfortable and confident in their ability to deliver the results you expect.
Conclusion
Choosing the right company doesn't have to be daunting. Following these tips and tricks, you can find a reliable, experienced, trustworthy company to handle your roofing needs. Research Roofing Companies Albuquerque, check for licensing and insurance, consider experience and expertise, ask for references, obtain multiple quotes, pay attention to communication, look for warranties and guarantees, prioritize local companies, review the contract, and trust your instincts. By doing so, you'll be well on your way to a successful and stress-free roofing project.